Bridgehampton Art Fair 2021
Carousel's first art fair took place in Brighehampton, NY in August 2021
Bridgehampton Art Fair 2021
Carousel's first art fair took place in Brighehampton, NY in August 2021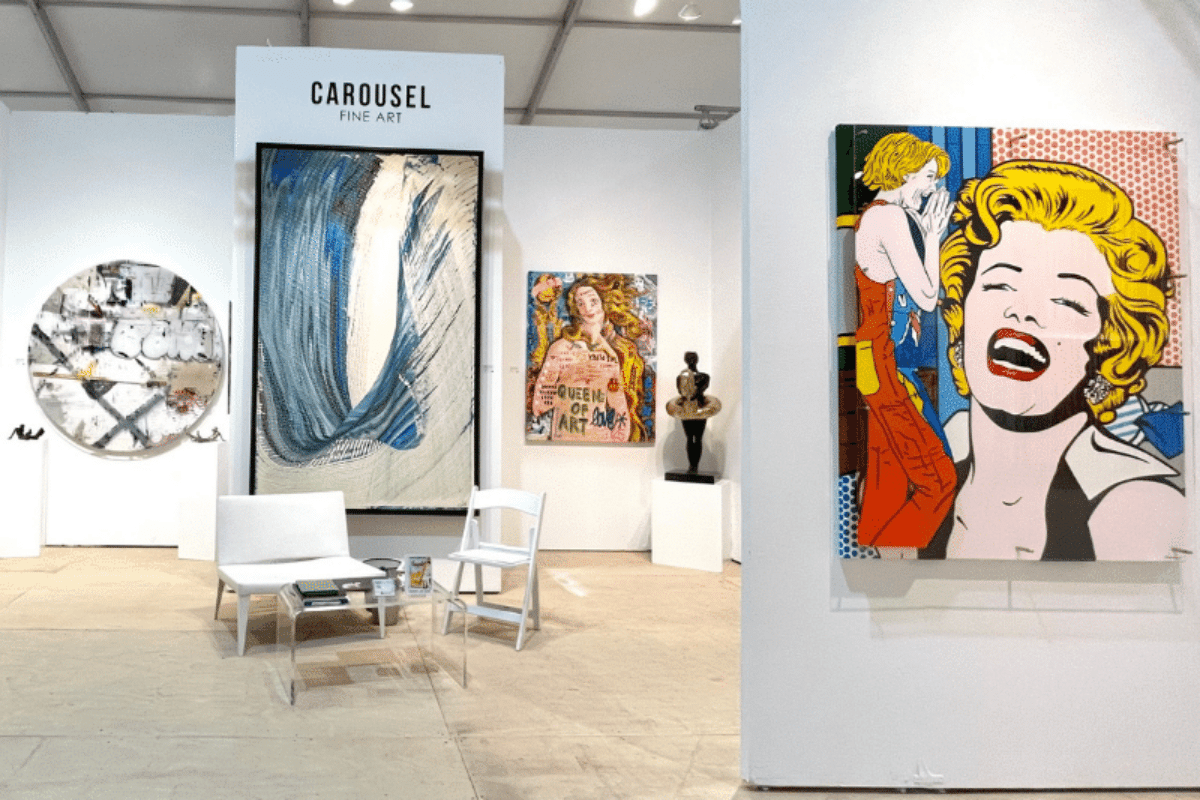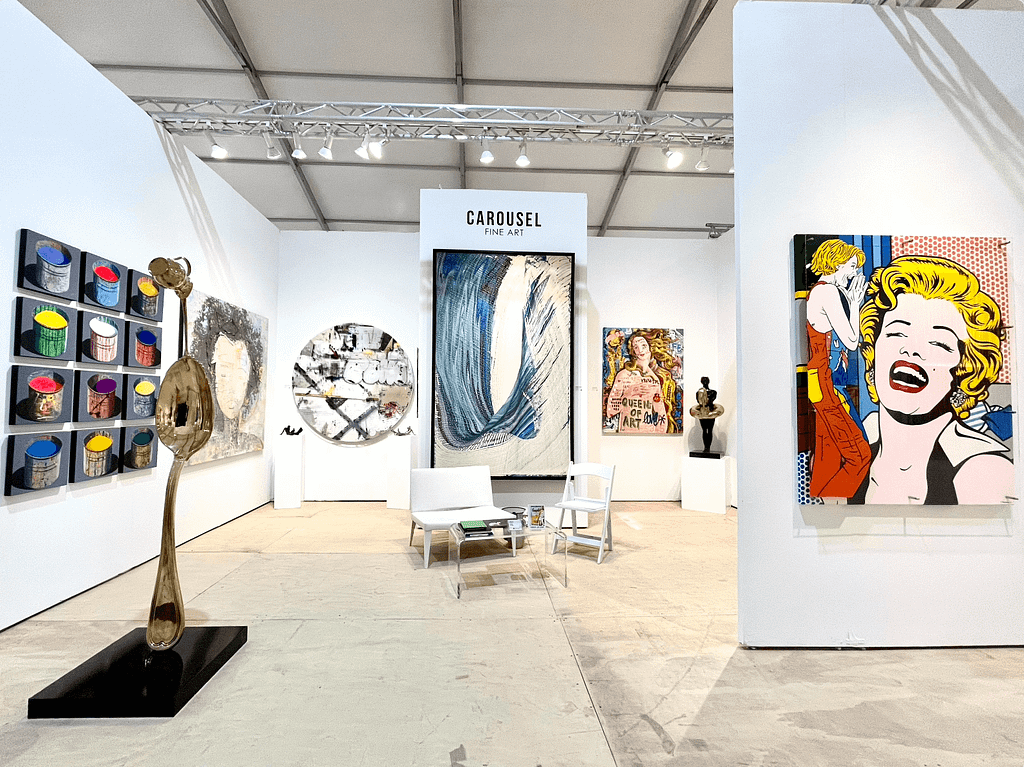 In August 2021, Carousel Fine Art exhibited a dozen international artists at the Bridgehampton Art Fair. The curation comprised of Caroline Dechamby, Jisbar, Simone D'Auria, Gregory Watin, Ignacio Gana, Stephane Braud, Idan Zareski, Zack Smithey and Carolus.
1. Caroline Dechamby
Is a Dutch Artist & Designer living in Crans-Montana, Switzerland. Throughout her career spanning over three decades, Caroline Dechamby has used art and history as a source of appropriation through which to develop her own niche, and place of resonance for her audience, within the largely male-dominated canon of painting.
Dechamby's paintings re-asses masterpieces by household names — among them Pablo Picasso, Jean-Michel Basquiat, Piet Mondrian, as her own, painting herself (either full-bodied or as silhouette) into the pieces in the act of creation. In doing so, Dechamby symbolically and visually takes back the field from "the boys" reimagining art history in her own vision, and allowing for viewers, especially female viewers, to envision themselves too in the empowered position of creative genius in place of the artist's painted avatar.
Repeatedly depicting her own figure from behind, Dechamby creates from her likeness both a recognisable autobiographical character, as well as an anonymous silhouette that allows for an immediate recognition and connection by viewers. Even by the very act of appropriating these works does Dechamby echo the trends of art history – her work, in a populist spirit, follows directly in the footsteps of artist like Marcel Duchamp, or more recently Elaine Sturtevant. As a woman, her outright placement of herself as an artist in the same league of famous predecessors she appropriates offers a powerful feminist statement, one that is intended outside the hallowed halls of museums and the institutionalised art world.
2. Jisbar
Jisbar is today one of the most prominent figures of his generation in the world of pop-street art. Jisbar has exhibited in a dozen galleries around the world and in prestigious museums such as Manarat Al Saadiyat in Abu Dhabi, the National Museum of Immigration's History in Paris, the Museum of Art & History in Santa Cruz California, the Technology and Maritime Museum in Malmo (Sweden), the Postcard Museum in Bau (France) and more recently the Louvre Museum in Paris (France). Not to mention galleries in Italy, USA, France, Thailand, Australia, Malaysia, Switzerland, Greece and in the UK… His works, a mix of reality and fiction, offer another perspective on the outside world. The artist has worked with important players from the fashion industry and entertainment business such as DJ Snake, Cardi B, Miss Europe Committee, JM Weston, Giorgio Armani, Sofitel, G-Shock, L'Oreal, Belvedere, BMW, and l'Officiel design…
In 2019, Jisbar was the first artist to exhibit a painting into the outer space in orbit around Earth.
For 10 years now, Jisbar's art has been moving the benchmark in pop culture with mischievous irony. His work is best known for his (re)interpretations of classical and historical paintings. His creations are an invitation to discover or rediscover the most famous works of art mixed with the codes of pop culture, bringing a touch of modernity and making them more understandable to people who are usually less sensitive to them. Each artwork is more than just a homage, as it has been enriched with words, sentences, numbers, and drawings that create a whole new story to decrypt and push the audience to focus on every single detail so they can find new elements at every new glance. In many of his works, he uses classics of surrealism, from Picasso to Dali, which he reworks with a sense of detail and a desire to blend in with our modern world. Jisbar likes to say that each of his works represents "moments of life", like a memory that is immortalized in a photo album. This nostalgia for a past era and the angelicism of childhood is frozen in his paintings, where the power of fundamental Colors plays a predominant role. This sincerity pushes the viewer to focus on each detail to understand the entire message. Jisbar is an artist who paints in a hurry. He strives to externalize his creative spontaneity.
3. Simone D'Auria
Simone D'Auria is an Italian artist
Son of the seventies, he grew up in a culture immersed in the aesthetic of revolution and politics. The counterculture atmosphere of those years indelibly influenced his distinct style development. Deeply inspired by Italian designer Bruno Munari, D'Auria ardently followed his vocation to be an artist. D'Auria's ability to assimilate to different parts of the world allows him to approach art with a culturally conscious design.
Some of his most prestigious collaborations include: Triennale Milan exhibiting , St. Moritz Art Masters, MoMa Museum, Museo Tamayo, Carousel Fine Art Galleries in Miami, Palm Beach & Saint-Tropez, Solo exhibition with CFA Saint-Tropez, Bridgehampton Art Fair, Context Art Miami and the Palm Beach Modern & Contemporary Fair.
4. Gregory Watin
Gregory Watin, originally from France, has been internationaly recognized for his very
unique "urban" style. His work has been shown in numerous exhibitions across Europe and the USA for the last 15 years.
He takes a picture he uses as a sketch. He immerses himself of all things that give strength to this urban landscapes, he looks at these structures marked by time and gathers all these elements in order to build an atmosphere, a universe around these places. In his work, he tries to make them his by giving them a second breath of life. That is why he uses bright colors. He inlays various element of nature, woods, cardboard, papers, plexiglass,….
There is also a notion of urgency in his work, to seize on idea before it gets away , to put on the canvas the instant gesture, the instant collages, the instant urge. He has created his contemporary poetry from daily material, from the town, the people. This urbanity made of anything is not sad or doomed , if you look at it closely, it is also colored and rhythmic.
" What remains of us ? once engulfed in this bulimic urbanity ? Some painting on a wall , a doodle we made when we were five , a music by Michael.Nothing noble or pure, nothing serious either. I have stopped looking for a tormented and distressed way off expression in painting. I prefer finding some lightness, humor and humanity in each lost object. I have created my contemporary poetry from daily material, from the town, the people. This urbanity made of anything is not sad or doomed , if you look at it closely, it's also colored and rhythmic " … Grégory
5. Ignacio Gana
Ignacio Gana is a Los Angeles-based Chilean sculptor whose work is figurative in style, with an elegant sensuality.
Each piece has a strong narrative, representative of his spectacular imagination and appreciation of the human form. The beautiful figures he creates are the embodiment of leisure and relaxation.
Gana's paintings and sculptures are found in collections and museums such as: the Museum of Modern Latin American Art (MOLAA) in California, Museo Ralli Marbella in Spain, Ralli Museum in Chile, and the Guggenheim in Venice. Recently named one of the 18 most influential artists in Miami, Gana was also chosen as the official artist of the Latin Grammy Awards in 2017. Ignacio Gana currently works and lives in Los Angeles, California.
6. Idan Zareski
Born in Haifa, Israel in 1968, Idan Zareski has had a non-conventional yet surprising journey. Very young he was immersed in multiple cultures and lived a cosmopolitan life between Africa, Europe, the United States and Latin America. At the age of 38 he decided to stop everything to follow his passion, sculpting. Idan gained rapid international recognition with his Bigfoot Family and the permanent exhibitions of his monumental sculptures worldwide.
While encouraging cultural awareness and tolerance around the globe, the Bigfoot Family achieved a recognisable notoriety throughout their universal message of unity. Candid and laid-back, Idan's sculptures demonstrate his innate talent to represent emotions. The artist manages to capture moments in such a way that we feel naturally connected to his touching, and graceful work.
"I DON'T PLAN OR ORGANISE, I DON'T DRAW SKETCHES. MY EXPERIENCES AND RAW EMOTIONS SERVE AS MY ONLY GUIDE.
WHEN I WORK, I FEEL IN ABSOLUTE COMMUNION WITH A FORCE GREATER THAN MYSELF
7. Stephane Braud
Stéphane Braud, born in Libourne, is today considered one of the greatest underwater painters in the world. He is also nicknamed the "fisherman of blue". He makes his paintings from nature, directly under the sea. Self-taught, Stéphane Braud began painting at the age of 19 and traveled to Norway, Germany and Tunisia where he found his inspiration. His favorite medium is watercolor on the spot. Since 1974, he has traveled across Africa. It took him more than 20 years of research to finally restore on his paintings, the atmosphere of the Maghreb, the effect of time on the doors discolored by the sun. Unique, its doors are of a sensitive realism and incomparable depth. In 1980, he quit his job to devote himself solely to painting and flew to Reunion Island where he set up his workshop. Passionate about diving, he naturally began to paint underwater. Today, installed in Marakech, he exhibits his works all over the world.
8. Zack Smithey
Zack Smithey (1982) is an interdiscplinary artist who is based in St. Louis and is represented as well as works with galleries, designers and agents worldwide. Smithey has over 3,000 orginal pieces and murals in public, private and corporate collections. Smithey has had over 100 solo and group shows across the country, has been commissioned to do art\film for Lincoln Center in NYC, created a series of art videos for world renowned pianist Inon Barnatan, collected by Boeing, commissioned performance piece for the La Jolla Music Soceity. Smithey has been published in the New Yorker, CURBED, St. Louis Post Dispatch, St. Louis At Home Magazine, All the Art, INSIDER, and has been covered/interviewed on Netflix, NBC, Fox, CBS, and USA Today.
Smithey is a philanthropist, art collector and community activist.
9. Carolus
The human figure is at the heart of Carolus' paintings, more precisely the face, which she paints in an almost obsessive manner, through rugged and deliberate gestures that demonstrate its tendencies and almost reveals its true nature, and in which oscillations in the painter's own nature may also be discerned. Profoundly touched by her travels to Asia, Africa and Latin America, where she became intimately acquainted with these far-off peoples, an approach that broadened her culture and stimulated her creative impulses. From the beginning, she concentrated on the face as the symbolic messenger of a range of emotions.
She opted for the series format to illustrate variations in her faces, although the faces ultimately mix one with another, as a result of both the singular technique employed and the spirit emanating from each. Only the titles of the theme-based cycles and certain aspects of clothing provide revealing clues, which goes well beyond that of simple representation. In the initial "Hat" phase, her faces, which may be indifferently male or female, are adorned with headwear, whether monochrome or richly coloured with overhanging eye sockets set above thick lips, all held within oval forms divested of any neck and generally divided along the midline into two sections, one lighter than the other.
In this duality we glimpse a confrontation between what is readily showed and what is insistently hidden. For the art of the portrait is to be the bearer of secrets, revealing not so much what is evident in the face as the concern of the eye that contemplates this face, seeks to label it or allows itself to become haunted by it. Here, the sensations of suffering submerged in memories of a haunting face well up to the surface. Thus, the point of contemplation no longer offers its presence but only reminiscence. The image is transformed into a magmatic flow, an explosion of colors. Moreover, to convey her vision of people, Carolus prefers the blaze of contrasting colours and the principle of freshly applied materials, spread across the canvas via pieces of cardboard in place of brushes. What is lost in tonal gradation is gained in frankness of execution and in efficiency regarding the structural content of the frame. Enfolded in the swirls of rough materials, Carolus' figures suddenly become filled with returning emotion that reverberates through their lost and enigmatic regard, encased in poignant solitude.
The period devoted to "Linen" marks the end of the "Hats" phase. The faces are now dilated and stretched, the colours intermingle, the materials have become splintered, splayed and stratified and occupy the entire field of view, while the impact of the eyes and mouths is heightened, as they take on a primitive quality. Finally, the "Poppy" series exacerbates the gravity of the faces, while presenting sequences of seemingly greater sophistication, in the manner of an effigy with sunglasses. However, while the medium becomes more concentrated and the materials crumble, beneath the interstitial rigidity of the controlled gesture, the tension of the atmosphere is unwavering, and the faces maintain their veiled distance and hieratic quality, derided by the occasional wry half-smile.
We may now legitimately enquire about the identity of these faces that keep returning. Might the subject of all these series not be ultimately one and the same? Carolus does not in fact deal in unknown figures, engaging instead in a deliberate and recurrent challenge: the creation of a composite drawing of a unique being that can only be unmasked through the very act of painting.
While this figurative approach seeking to express the real stripped of its multiple disguises may at first glance appear rooted in Realism, the paintings of Carolus remain more closely related to the grim tradition of Expressionism, this art of excess and exaggeration regarding its human references. In any event, we have before us a powerful and homogeneous work that combines reminiscence with the present moment, uniting the force of symbols with the purity of primitive inspiration.